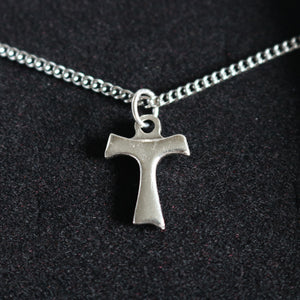 - Excellent reminder for daily prayer
- Stainless Steel Chain 18" Inch
- 13/16" Tau Cross Pendant
- Handmade by us (Catholic Mercy) in Utah, USA

For the word of the cross is folly to those who are perishing, but to us who are being saved it is the power of God. – St. Paul

If any man would come after me, let him deny himself and take up his cross and follow me. – Jesus Christ

It is not the finest wood that feeds the fire of Divine love, but the wood of the Cross. – St. Ignatius of Loyola

The crosses with which our path through life is strewn associate us with Jesus in the mystery of His crucifixion. – St. John Eudes

Whenever anything disagreeable or displeasing happens to you, remember Christ crucified and be silent.- St. John of the Cross

God Bless you!
This was a beautiful transaction and what a lovely seller! I received the tau so fast my head was spinning. Thank you for your thoughtful packaging and the free gift of the St. Francis prayer card!