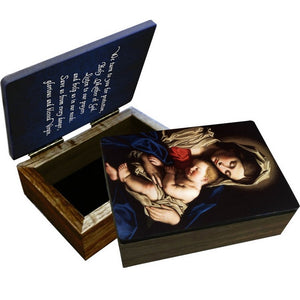 This beautiful wooden box is handcrafted right here in the U.S.A. Perfect for holding rosaries, jewelry, and other small keepsakes. Measures approximately 4"x6"x2".
The outside of the box displays Mary and the Child Jesus while the inside of the box displays the following prayer:

"We turn to you for protection Holy Mother of God. Listen to our prayers and help us in our needs. Save us from every danger, glorious and Blessed Virgin"
This prayer, known in Latin as "Sub Tuum Praesidium" and first found in a Greek papyrus c 300 AD, is the oldest known prayer to the Virgin